When is an Eyelid Surgery for Malposition Needed?
Eyelid malposition is not uncommon and can affect both men and women. It can be caused by age-related laxity of the eyelid tissue, weakness of the eyelid muscle (e.g. Bell's palsy, facial paralysis), previous eye or eyelid surgery/trauma/burn, scarring of the skin or conjunctiva, infections, and inflammatory disorders (e.g. ocular cicatricial pemphigoid).
The malposition can take various forms including entropion (eyelid turning inwards with the eyelashes brushing against the eye), ectropion (eyelid turning outwards), and retraction (eyelid drooping downwards). Any of these conditions can cause eye irritation, tearing, and even pain and reduced vision.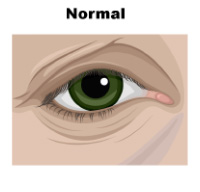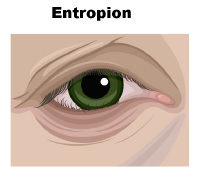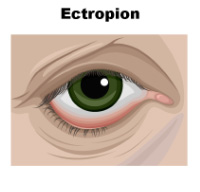 Eyelid surgery for entropion is performed by providing structural support to the lower lids through tightening of the tendons and the lower eyelid soft tissue. This usually involves tiny incisions hidden in a laugh line in the outer corner of the eye and immediately under the eyelashes. Sometimes excessive lower eyelid skin and muscle may be removed if it is contributing to the structural instability of the lower eyelid and thereby the entropion. If the entropion is caused by scar tissue on the under surface of the eyelid (conjunctiva), other membrane grafts may be needed. At your comprehensive evaluation, Dr. Shannon S. Joseph will assess the cause of your entropion and work with you to design a surgical plan tailored to your needs.
Schedule a Consultation
If you are having irritation of your eye and think you may have eyelid malposition, please contact us to schedule a personal consultation with Dr. Joseph. She will listen to your concerns and perform a comprehensive evaluation to determine the cause of your symptoms. She will then develop a surgical plan to address any eyelid malposition you may have in order to protect the health and function of your eyes and vision. We take care of patients from Troy, Birmingham, Bloomfield Hills, West Bloomfield, Rochester Hills, Rochester, and the rest of Metro Detroit and Southeastern Michigan.